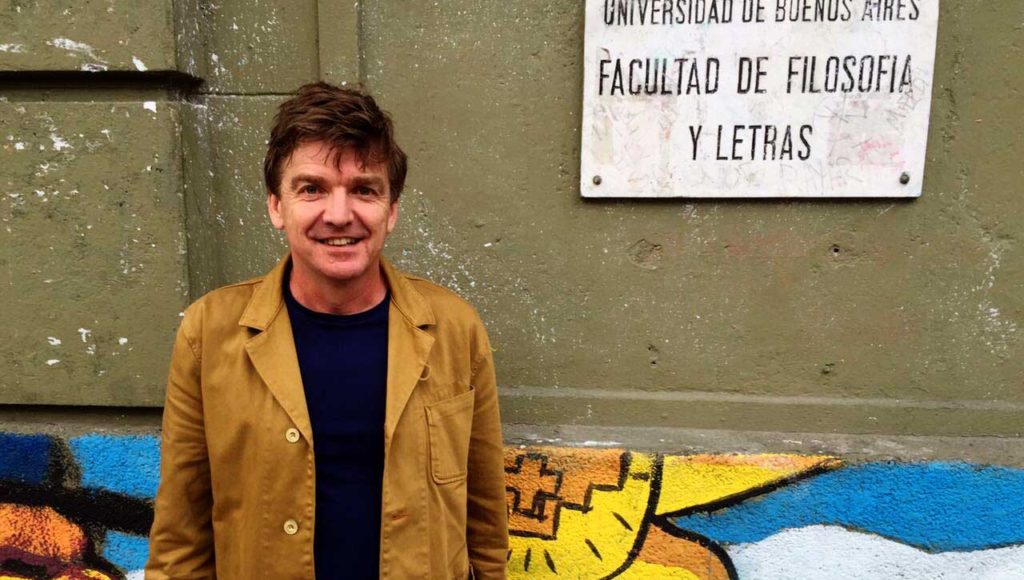 Guy Julier is Professor of Design Leadership in the Department of Design at Aalto University, Finland. He is a design writer, practitioner and teacher specialising in Design Culture Studies and design for social change.
Before joining Aalto University in 2018 Guy Julier was the University of Brighton/Victoria & Albert Museum Principal Research Fellow in Contemporary Design and Professor of Design Culture. He is also Visiting Professor of Design Studies at the University of Southern Denmark in Kolding. He has been Honorary Professor at the Glasgow School Art and Visiting Fellow at the University of Otago, New Zealand. In 2021 he was awarded an Honorary Doctorate at the Moholy-Nagy University of Art and Design, Budapest in recognition of 'his international representation of the science of design culture, his outstanding research, his intellectual contributions and his scientific conduct'. Guy Julier has acted as Chair of Creative Futures, a European network of cities, universities and companies, and is a Board Member of the Helsinki Design Museum.
While he was Professor of Design at Leeds Metropolitan University (2001-10), Guy Julier founded and directed DesignLeeds, a cross-disciplinary research and consultancy unit specializing in social design. He was also a co-director of the community interest company, LeedsLoveItShareIt, formed to develop and prototype new approaches to urban regeneration. In 2009, he established and convened the Leeds Festival of Design Activism. He has collaborated with the thinktank, Policy Connect in developing its UK parliamentary enquiry into design for public services. Since 2010, he has worked frequently with Lucy Kimbell in developing research approaches to social design, design for policy and design activism.
Having studied the History of Design at the Royal College of Art and the V&A in the mid-1980s, Guy Julier specialised in contemporary Spanish design, later working as a consultant to London's Design Museum and other cultural institutions. His first book, New Spanish Design (1991) is a standard text in the Spanish design history bibliography. In 1993, he published the first version of the Thames & Hudson Dictionary of 20c Design, several revised editions following from this. In the early 1990s he researched design and craft in the political and economic transitions of Hungary. His PhD was awarded in 2000. It explored design and transition in Spain and Hungary, set against broader global shifts of the time.
At the same time, he wrote his book The Culture of Design which ran to a 2nd revised edition in 2008 and a third, published in 2014. It has also been translated into Chinese, Korean, Russian and Spanish. This book instigated Design Culture Studies as a field of study and degree courses in it have subsequently been established in Denmark, the Netherlands and the UK. Design Culture:  Objects and Approaches (2019), co-edited with colleagues at the University of Southern Denmark, develops a series of essays that explore the new discipline of Design Culture Studies. Guy Julier was also co-editor, with Liz Moor, of Design and Creativity:  Policy, Management and Practice (2009), that focused on audit culture, routine and systemisation in design.
From the mid-2000s, while continuing research in the sociology and political economy of contemporary design, Guy Julier has also turned his attention to design activism and social design. He directed the 2009 Leeds Festival of Design Activism and, in association with the Fundació Història del Disseny, convened the 2011 Design History Conference in Barcelona 'Design Activism and Social Change', attended by 200 delegates from 34 countries. In 2013 he Guest Edited a special issue of Design and Culture on design activism. While working at the Victoria & Albert Museum he created events that open the museum onto questions of the critical role of design in contemporary society.
His latest book, Economies of Design was published in 2017 and has received considerable acclaim. This explores the many relationships of design and design culture to neoliberal capitalist systems. In 2019 he was Commissioner of the Finnish Pavilion for XXII Triennale di Milano, producing an exhibition entitled 'Everyday Experiments' with curator Kaisu Savola. This told the stories of various projects by community groups, NGOs, companies and institutions in support of sustainability and equality.
To summarise his career over more than three decades, it has combined cross-disciplinary enquiry into contemporary modes and meanings of design culture with explorations of design for social change. He is currently working on a book that develops approaches that bring these two sides together.